The Entertainer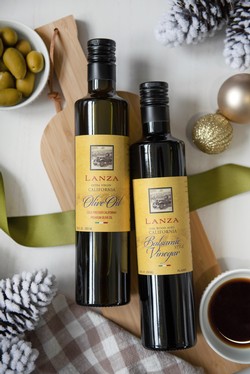 Lanza Italian EVOO and Balsamic Vinegar - The Entertainer
This pairing of EVOO and aged Balsamic Vinegar is the perfect hostess gift. Beautifully packaged, this thoughtful gift is a yummy treat that every foodie on your list will love.
The Entertainer includes one bottle of Lanza Italian Extra Virgin Olive oil, one bottle of Lanza Italian Balsamic Vinegar, and one Wooden Valley cutting board.
*This product is not available to ship. Orders can be placed for pick up in our Tasting Room only.
Product Reviews