2020 Exit Forty One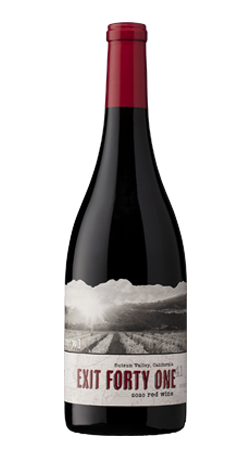 Exit Forty One
Welcome the new and adventurous Exit Forty One, a Petite Sirah and Cabernet Sauvignon blend! This medium tannic red opens with aromas of brilliant red currants, cola, and a hint of smoke. Rich and bold in flavors, black fruits, spices, and just a little hint of dark cocoa will truly take you on the path less traveled!
Wine Specs
Appellation
Suisun Valley
Product Reviews
Matty
(Oct 29, 2022 at 8:17 PM)
Very fruity, I love this blend. I paired it with goat caldereta and it's heaven on earth.
Kevin
(Nov 4, 2022 at 11:26 PM)
We're addicted! We had a bottle of this with braised beef short ribs and we were transported. You've hit a new high with Exit 41.
Debra Frye
(Dec 24, 2022 at 5:49 AM)
Incomparable! When I was visiting home (Fairfield) and went to the winery to taste, this was off the charts! The reason I rejoined the wine club~thank you Lanza family for producing the most exquisite red I've ever had! Salut! #woodenvalleyexit41