Our Story
---
THE EARLY YEARS
Mario Lanza and Lena Carlevaro Lanza met in Oakland, California in 1934, and married three years later. Their families both came from the small town of Silvano Di Orba, in northern Italy. Mario worked as a partner in the Oakland Scavenger Company, but he was injured in a workplace accident. His doctor recommended that he move from the Bay area to a warmer climate.
Mario had a friend, Salvador Brea, who, with his brother Manuel had founded a small winery in Suisun Valley at the end of prohibition in 1933 – Wooden Valley Winery.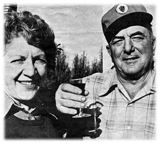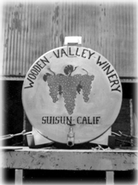 It was the perfect place for Mario. He moved his family to Suisun Valley in 1944, joining the Brea brothers as a partner. He became sole owner in 1955 – with the understanding that the name of the winery would stay the same. On a handshake, Mario agreed to continue the business as Wooden Valley Winery.
This decision has left a significant historical fingerprint; Salvador named the winery after the road it was on – then Wooden Valley Road. The same road is now Suisun Valley Road, but Mario's promise allows the unique name "Wooden Valley" to continue in Suisun Valley.

GROWING THE BUSINESS
Mario loved this land. He purchased the ranch next door to the winery, and gradually replaced its 36 acres of pear and prune trees with vines. The property would grow to over 300 acres of prime vineyards.
Lena handled the accounts and ran the tasting room, greeting customers like they were members of the family. Soon, Mario and Lena's son Richard – "Chick" – was working with them.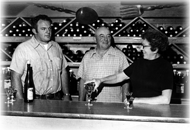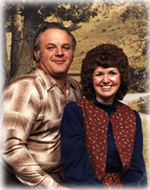 Chick grew up at Wooden Valley Winery with farming in his genes. In 1960, he became the winemaker and held that position for the next 23 years. In 1961, Chick married Adrienne, and together they began growing their business.
They still sold their wine from the tasting room, but Chick also delivered wine along a route, much like a milkman, in gallon jugs or 25-gallon barrels. His route extended all the way down to the Bay Area, and he really got to know his customers. Just like the milkman, he knew how much to deliver to each one. If a woman had a large family, well, she got a lot of wine!

MAKING GREAT WINE
As Wooden Valley Winery grew, so did their family – with Adrienne giving birth to four sons. As they grew up on the land, each one learned to drive a tractor by the time he was ten years old. They worked all the jobs in the winery and vineyards, and at Chick and Adrienne's invitation, each one found his place in the business. Their full-time involvement provided the impetus for the conversion to premium wines.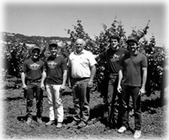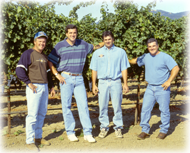 Mario's oldest grandson, Rick, is now Wooden Valley's winemaker. Ron works very closely with Rick in the cellar and focuses on sales & marketing. Larry and Ken manage the vineyards together, growing the grapes that their brothers make into wine.
Working together, the family has completed a transition to the exclusive production of estate wines, with a range of varietals and rare classics to meet every taste.

THE FUTURE
This generation of Lanzas has a vision for Wooden Valley Winery and Vineyards – to establish Suisun Valley as a world-class wine region. And as the family's fourth generation matures, the future certainly looks bright for Mario and Lena's great-grandchildren.
It's all For the Lanzas, and it's all about family. We've maintained the tradition of gathering on a regular basis with close friends and relatives for delicious food and wine, to enjoy the results of our hard work. Visitors and Wine Club members are now included in that tradition, with our winemaker dinners, harvest celebrations, and special seasonal events throughout the year.